La vacanza a Livigno
si fa in quattro per voi
SPECIAL OFFERS
Bargains that make you holidays in the mountains even more special
Bormolini-Group
Several facilities, a wealth of holiday options, a unique amazing experience
Freedom and reliability:  the two main features underlying Gruppo Bormolini's philosophy. Freedom to choose: hotel or holiday home, plus a unique family standing for guaranteed reliability and specialising in hospitality in Livigno since the Seventies.

Loads of holiday options for you in Livigno, summer or winter, as we strive to meet your every need!


Sharing the same soul
Gruppo Bormolini: one name that stands for different, responsible, choices endowed with their own soul. Each hotel, and each holiday home, has its own personality, which we accurately protect and promote. 

Contact Us

For any doubt or curiosity

Send Request

Casa Gallo ***

Cortesia e Professionalità

Gli appartamenti sono molto ben arredati in stile moderno, dotati di tutto e puliti. La Famiglia Bormolini ed il suo staff sono tutti gentilissimi e lasciano trascorrere la vacanza con la giusta discrezione pur essendo presenti laddove si presenti una qualsiasi necessità . Ci sono 4 appartamenti di diverse metrature pertanto adatto ad ogni esigenza e si trova a pochi passi dal centro quindi non serve la macchina per muoversi e non si viene disturbati dal traffico o dai rumori dei locali notturni che ci sono al centro di Livigno quindi la posizione e' ottima. Noi abbiamo fatto la nostra vacanza soggiornando 3 settimane e ci siamo trovati benissimo tanto che abbiamo deciso che sarà la casa anche per la nostra prossima vacanza . Accettano animali , c'è un ampio garage dove riporre macchina e bici Etc... , lavatrice ed asciugatrice . Il prezzo e' chiaro non vengono aggiunti, come molte strutture fanno, costi aggiuntivi per supplementi vari per cani , per utilizzo garage, pulizie finali, o cambi biancheria. Lo consiglio assolutamente a tutti e ringrazio la Signora Rosalba Bormolini ed i Signori Battista e Guido Bormolini per la cortesia e la professionalità con i quali ci hanno accolti.


Blinoo, Lombardia | 05/09/2015
Just 50 metres away from Carosello 3000, which connects the whole of the  Costa del Sol slope, Dépendance Sporting is ideal for sports and leisure holidays. We provide specific mountain biking amenities, plus options fit for all sportspeople.
A cosy environment with an informal, friendly atmosphere.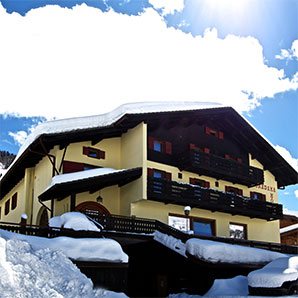 Hotel Loredana is located only 100 metres from the ski lift to the Mottolino Ski Area. Comfortable family rooms with everything you need for your kids' first mountain experiences. The facility is also very popular with guests who love shopping in Livigno and with motorcycle travellers seeking great rides.
Casa Rosalba features  4 flats in central Livigno ,  50 metres always from the pedestrian area and really close to the main shops and restaurants. It is a great choice for classic family holidays, as it provides a cosy and private atmosphere that makes you feel at home.

Fully renovated in 2010, Casa Gallo is an evocative combination of charming old-days exteriors and modern interior design.
The formula proposed for the 4 refurbished flats, fitted with modern amenities and accessories, is enhanced by garage-inclusive rates.